The 1960 NAKA Grand Nationals at Rockford Illinois
3/1/02
(Photos and some text taken from Kart magazine, Jan 1961)


Racing action at the 1960 NAKA Grand Nationals in Rockford Illinois. Carl Phipps holds his Hoffco/PP-58's into a tight corner as the rest of the B field nips closely at his rear slicks. The 3-day event boasted 225 entries.
Windsor Raceway, Rockford Illinois, was the site of the first annual NAKA (North American Karting Assoc.) Grand National Road Race Championship. This was one of the most intense and memorable events in klating's early years. First - the participants. To tour the pits was to literally rub elbows with karting's Who's Who. Names like Bill Jeffery, Jim Yamane, Chuck Florian, Duffy Livingstone, Don Surwall, Bill Thomas, Dick Swindell, Mickey Rupp, Don Boberick,.....You get the idea.
---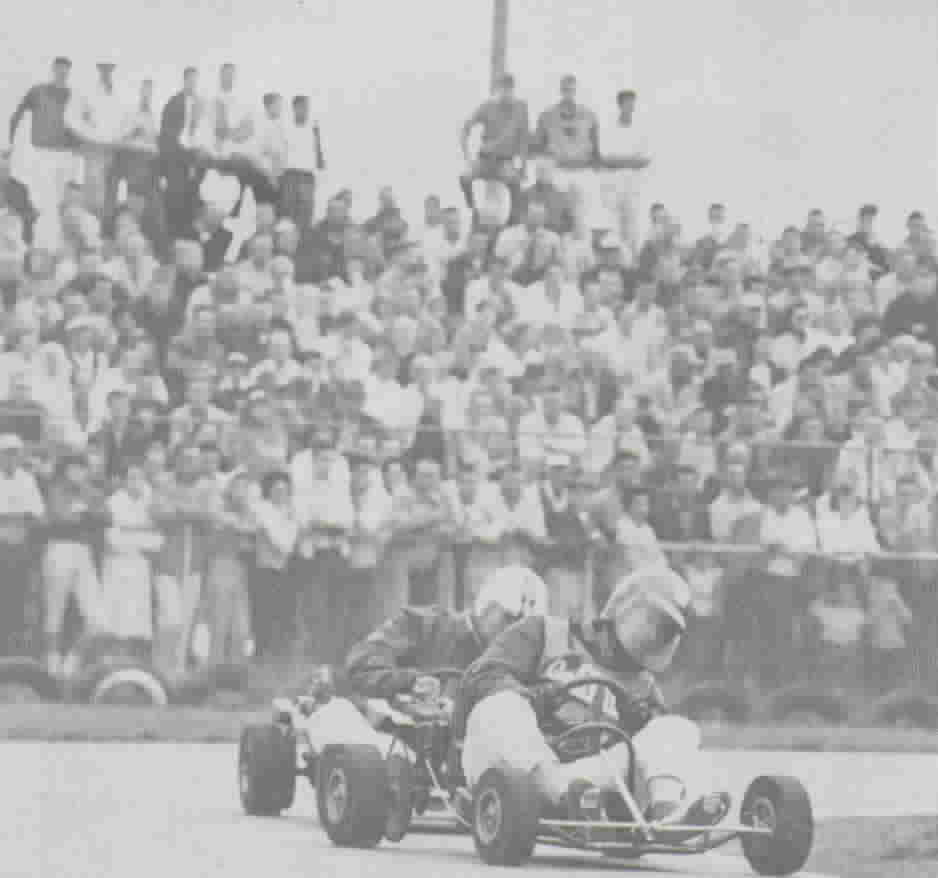 Real crowd pleasers were West Coast's Tex Bell and Jim Yamane. The two toured the 1/2 mi course as if wired together in this first B Super heat before 5000 spectators. Bell went on to win the class, with Yamane second.
---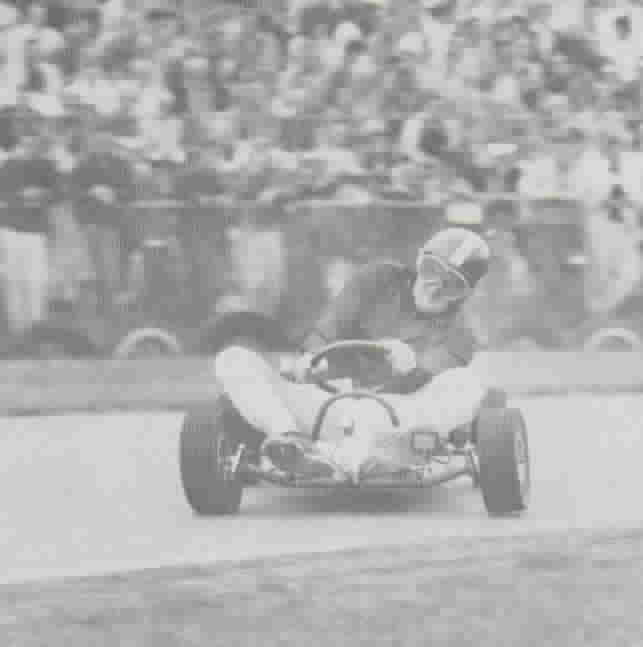 This is Don Surwall in class C Super on the mighty Evans/Max-Torque Spl. powered by three MC10's on swing mounts.
---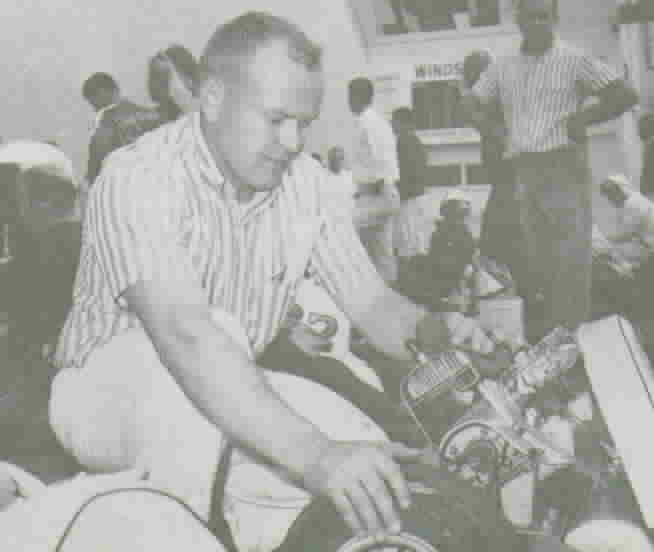 Mickey Rupp (Rupp Mfg/Dart Kart) took his dual MC10 powered Dart to third in B Super. Mickey's talents included kart design, tuning and driving and Rupp karts to this day are among the most popular with vintage racing enthusiasts.
---
Don Boberick driving a Villers powered Go Kart in C Class had all he could do to stave off Dick Swindell on an Evans Max Torque Spl. running PP82's. Boberick went on to capture the Class C title. [Note: Don has written many of the History articles for this web site.]
---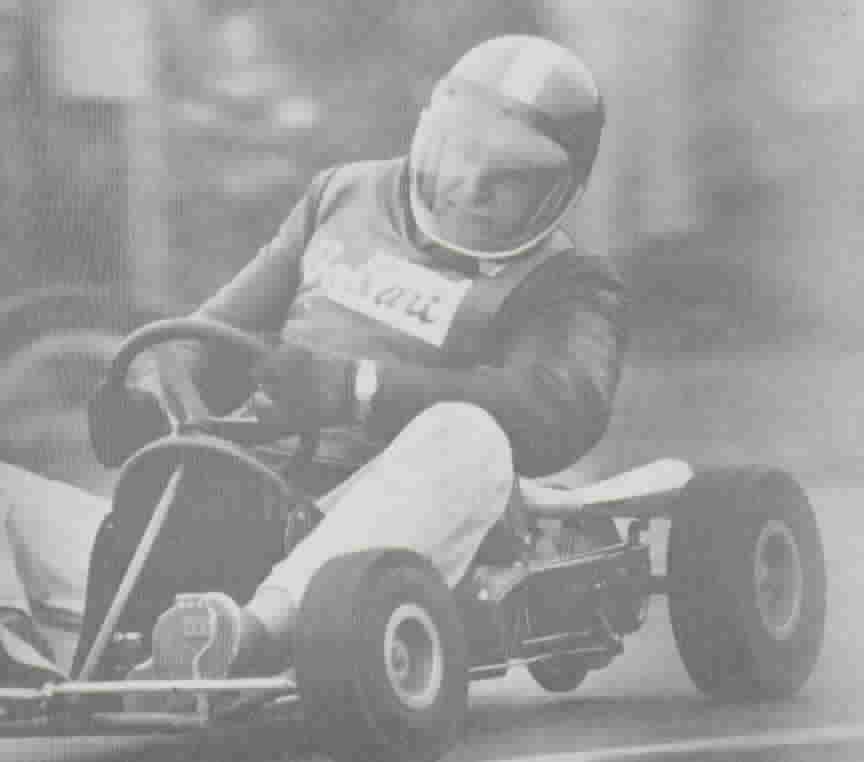 Fastest man on the course was Go Kart's Duffy Livingstone at the wheel of his Konig-powered Go Kart. Duff set the fastest qualifying time of 44.70 for the 1/2 mile circuit. Had two straight wins in C Super heats, but spun on 3rd heat to fall to second in class. Duffy's kart ran a secret device mounted to his seat. Read more about Duffy's Konig.
---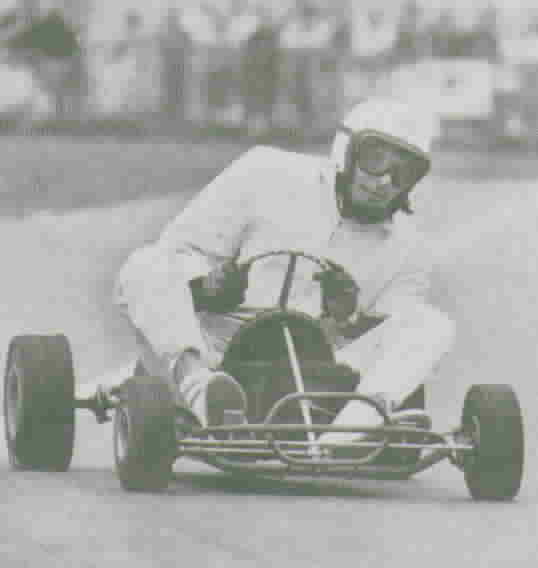 Lew Billo on Konig-powered Dart took C Super (followed by Livingstone and Surwall).
---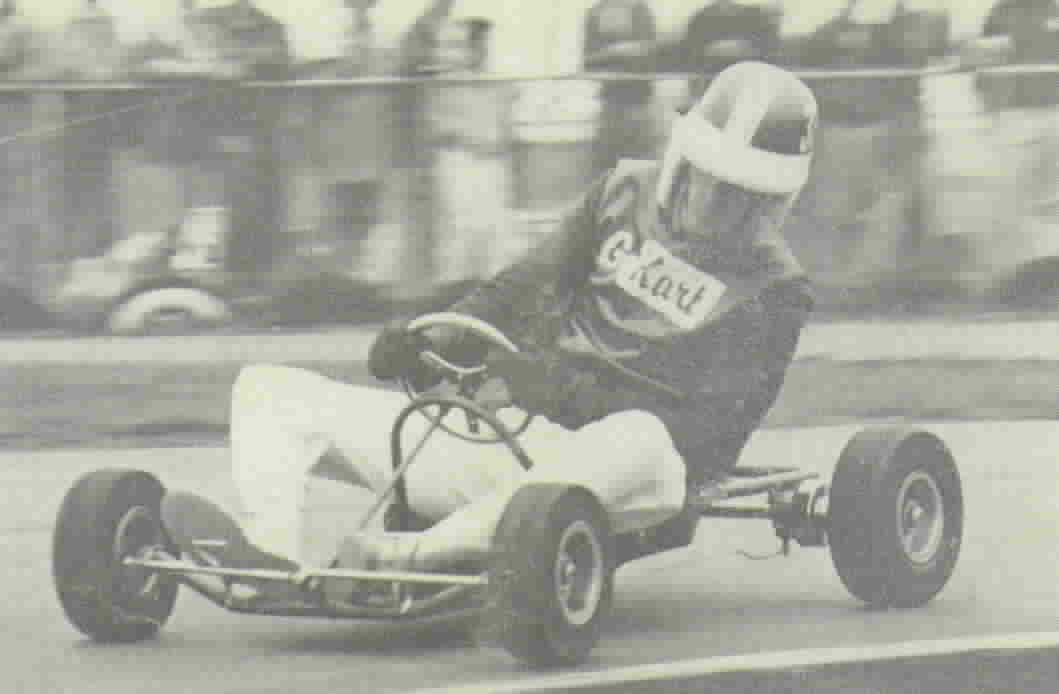 This is the man that took the overall sweepstakes honor. Bill Jeffery, a member of the Go Kart Racing team, won both Class A and Class A super. Amazingly, in both classes, he betterd the previous best Class C times!! (Photo is from a Go Kart Mfg Co. ad ca 1960-61).
---


Read more about Duffy's Konig-powered Go Kart