---
Cool Photo
---
11/7/99 UPDATE: Seems the Car vs Kart race that we've featued on this site for awhile (as reported in the media in 1962) actually had a follow-up race the following year. Here's the story re the first race: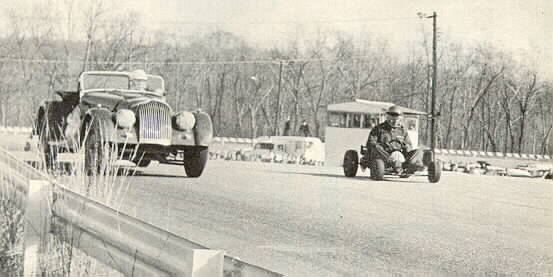 Well it was inevitable that someone would put a kart to the test against a car. As reported in Karting World magazine (April '62), a special two lap event was staged between a Super B class kart (driven by Hollis Webster) and a Morgan sports car (driven by Jim Bailey). Naturally the kart won after leading the entire distance around the 1.8 mile per lap course.Total time was 152.4 seconds, with the kart clocked at 85 down the back straight. Race time was quicker than typical MG's and Triumphs. Webster's kart was a home-made special powered by a pair of Power Products engines. The Morgan was powered by a 4 cylinder 120 cu. in. 4-banger.
We recently heard from Don Greimel of Havre de Grace MD.Here's what he says:

I just discovered your site and was expecially excited to see the Kart of Hollis Webster vs the Morgan. I raced Morgans at Marlboro in those days and knew Hollis quite well but never heard of a Morgan driver named Jim Bailey. I will ask Dave Roethel, the DC region SCCA historian about that. He was the one who, as regional exec, came up with the fun things we did at the Refridgerator Bowl. Meanwhile, I am going to scan a photo of the Morgan vs Kart race that occurred the following year. A rematch. Me in my new Morgan Super Sports against Hollis in his Anzani powered Kart. You will note the Crosley radiator on the Kart, the snow in the background, and the fact that the Morgan is leading, which it did to near photo finish. We ran three laps and had it been four Hollis would have won. I have recently purchased another Morgan and plan to race in vintage events next year.
Sadly, Hollis is no longer among us.