VKA 5th Anniversary Nationals
Sugar Hill Speedway (NH)
Aug 27-28, 2005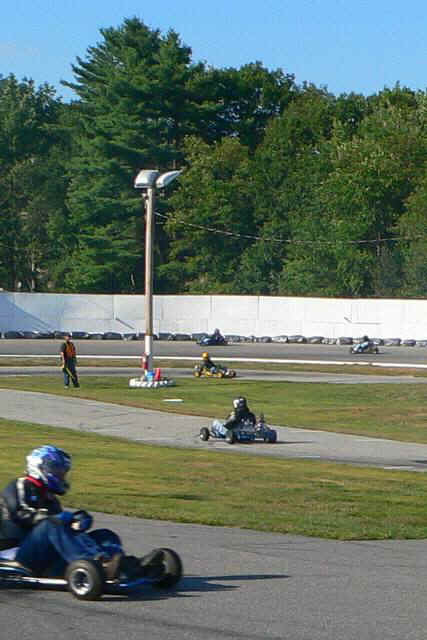 The first VKA Nationals event, organized by vintage karting pioneer and VKA co-founder Carl Billington, was held at Sugar Hill in August of 2000. This year the Nat's returned to Sugar Hill to commemorate the 5th anniversary of that event.
This 2-day event was blessed by the most beautiful weather of the summer. Sunny and pleasantly warm.
Saturday started with afternoon practices. Sugar Hill, possibly the most vintage-friendly track to be found on the planet, opened the track for vintage practice a full 3 hours before the arrival of the modern karts for the normal practice rotation. The evening vintage race events consisted of an 8 lap qualifier and 15 lap final. Sunday practice was in the morning, with race events in the afternoon. The two days ran as separate events. Results (first 4 places) for the two days were as follows: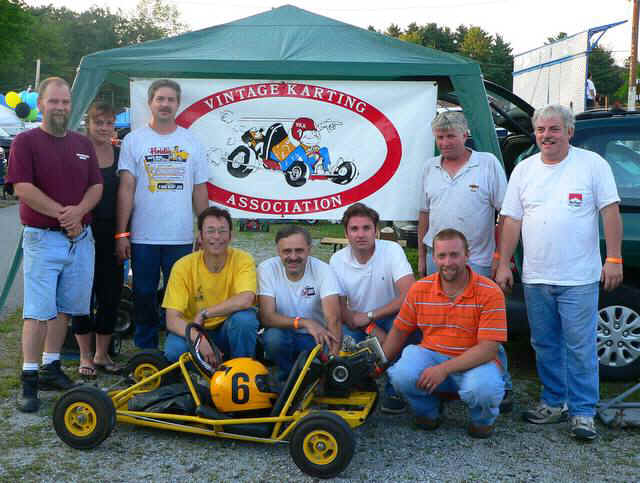 Standing (L-R): Sean Cole, Kim DeSomma, George DeSomma, Gary Emilio, Philip Emilio.
Seated (L-R): Bob DiNozzi, Mark D'Elia, John Corey, Chris Emilio.
Not present when picture was taken: Joey Federici, Tom Louttit.
Thanks to Gary Emilio for organizing the event, to our starters Sean Cole and Kim DeSomma, and to Sugar Hill's Archie and Debbie for their continued support of vintage karting. Photos by Carlene Durgin.